>
Special Adviser the Lagos State Governor on Drainage and Water Resources, Joe Igbokwe, has once again criticised the ruling All Progressives Congress (APC) for accepting former Minister of Aviation, Femi Fani-Kayode, into its fold. 
While venting his anger on Wednesday, Igbokwe wrote on his Facebook page: "APC deliberately inflicted maximum shame and pains on diehard APC heroes and foot soldiers across Nigeria by admitting the political prostitute and apostate, Femi Fani-Kayode into the fold."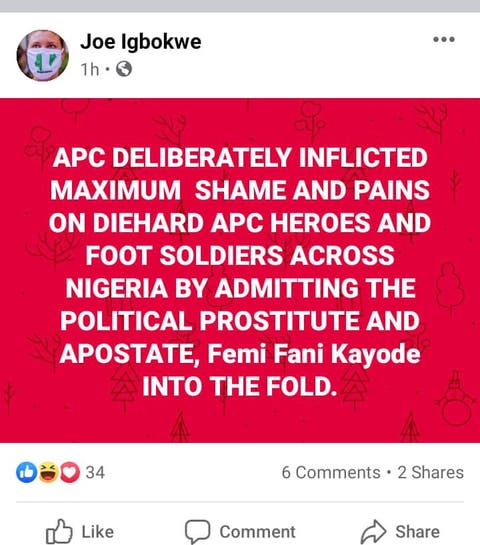 The APC chieftain has not hidden his displeasure concerning Fani-Kayode's defection.
Fani-Kayode, who joined the party last Thursday, was personally welcomed into the APC by President Muhammadu Buhari at the Presidential Villa, Abuja,.
While reacting to Fani-Kayode's defection last week, Igbokwe had said: "Despite all my push for APC, Abuja has not given me a phone call talkless of inviting me for a coffee with C in C, but here is a political charlatan and prostitute being given a red carpet in the seat of power, Abuja.
"Please I am ok where I am today but I know countless APC die hards who are 100% better than FFK. Nobody has remembered them. Not even a recharge card, not even a bottle of coke, not even thank you."
Speaking on the backlash his defection had generated, Fani-Kayode said he is proud of himself, adding that he does not care what anyone thinks about his dumping the Peoples Democratic Party(PDP) for APC.